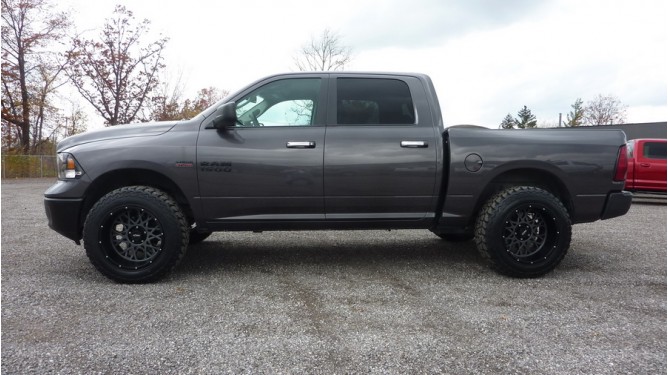 Leveling is the choice for you if you want to give your truck a new and exciting riding look. Wheels Auto Group has great variety of Lift/Leveling kits that gives you the ride you are looking for. Leveling not only alters the appearance of your vehicle but gives your ride a cool and vibrant look. With this ride we install Daystar Front & Rear Suspension Leveling Kit. Front strut spacers and rear coil spacers are used to retain the factory ride quality while offering a level stance and room for 35″ Mickey Thompson Baja ATZ 35x12.50R20LT tires, Set of Vision Off-Road Rims "Rocker-412" Size: 20x12 Offset: -51mm and set of "Anzo" Halo/Led Headlights, easy installation and quality Headlights for your vehicle. At Wheels Auto Group we will transform your truck for the ultimate driving experience.
Total price: $ 5.750
show more
What we can do with your vehicle
Testimonials
Everyone at Wheels Auto Group bent over backwards to make the purchase of my vehicle go as smoothly as possible. I was coming from out of town and was thrilled to see the car not only met my expectations but exceeded them. The owners both took time from their day to facilitate the purchase and registration of the car for my drive back home. I would return to WAG again without a second thought. Thanks guys, sending my best!

Michael Schraefel
They were very helpful and even rushed to prepare our Ford F350 for the same week we signed for it. Great job installing the flares and getting the vehicle commercially licensed for us. Really appreciate all their hard work. There was a transmission cellinoid faulty and they replaced it when we brought it up after having the truck for a few weeks. Very good team. Will definitely go back when we purchase another work vehicle.

Samantha Marino
One stop shopping for all your truck needs. Serge and his team was phenomenal. Very easy to deal with and they went above and beyond. Definitely will be going back to these guys for any truck's needs!

Mickey Chaytor
ADUVO SYSTEMS
My girlfriend and I just recently purchased a truck from Wheels Auto Group, I have to say those guys were amazing, everything that I asked for was done and any little problem that came up Serge rectified immediately. They treated us well and we will definitely be buying another truck from them.

Bob Cerroni